Get Your Orange Shirt
First Light is calling on everyone to wear orange on September 30th to show solidarity with those who survived residential schools across Canada and to remember those who never made it home. We also encourage you to wear your orange shirt any day of the year to show your support for decolonizing spaces, educating others, and recognizing Indigenous rights.

When you purchase and wear an orange t-shirt, you're making a commitment to learning and raising awareness. We encourage everyone who wears it to take a proactive role in educating themselves about the history and significance of Orange Shirt Day.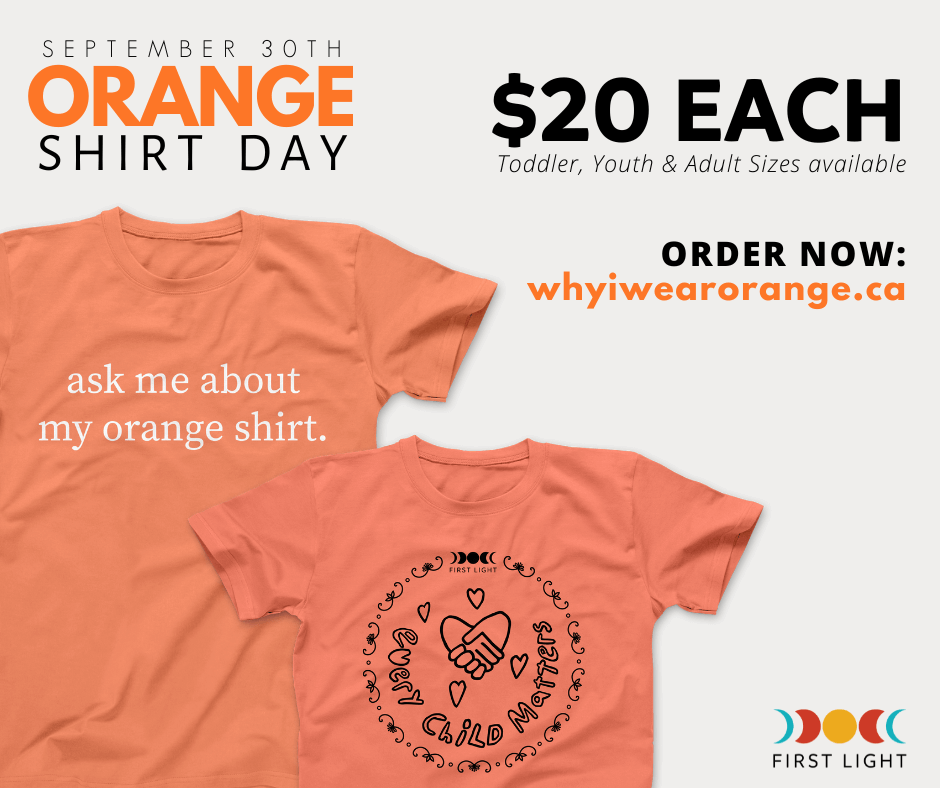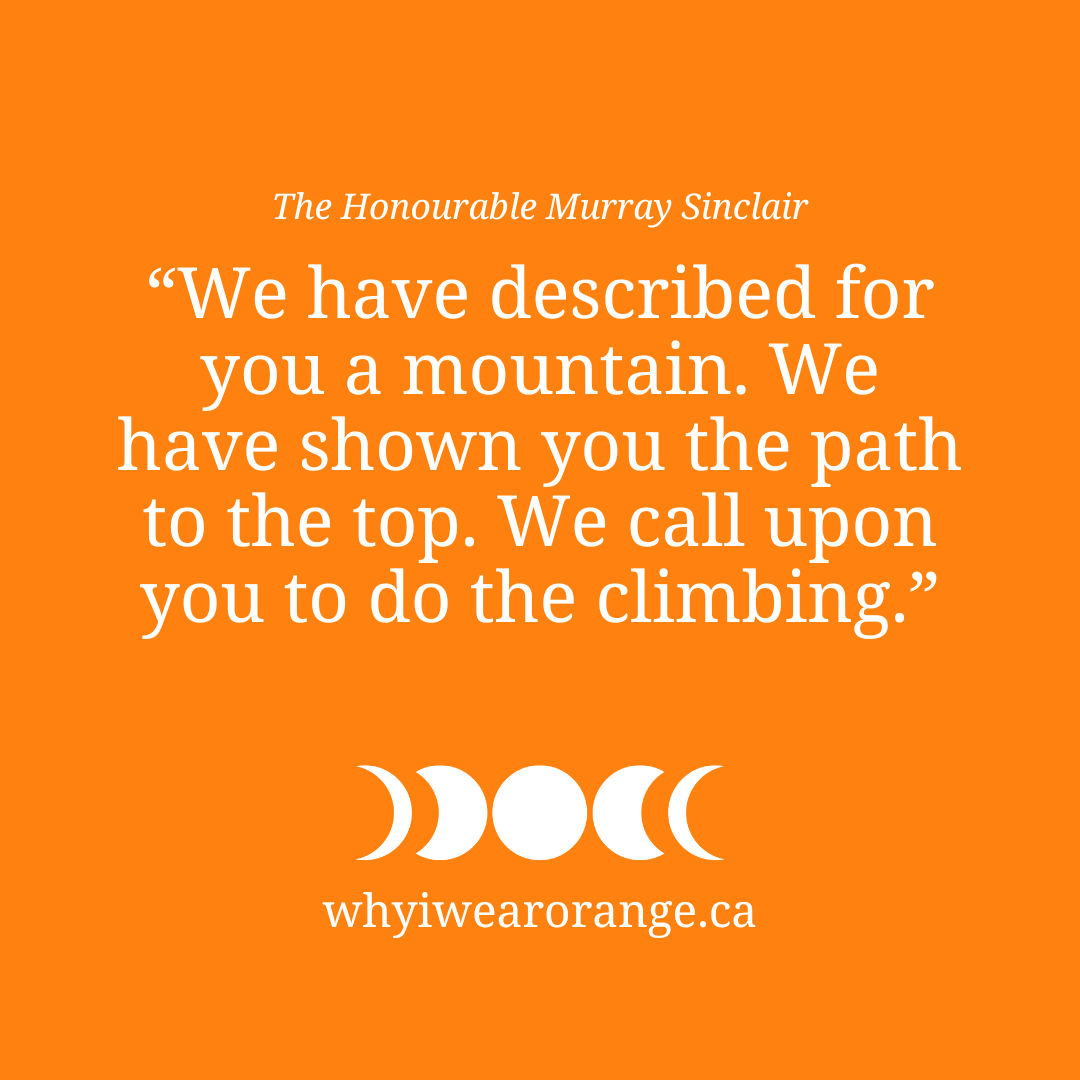 At First Light, we believe that change begins with dialogue. Our #WhyIWearOrange campaign and the "ask me about my orange shirt." were designed to help you start that dialogue.
Orange Shirt Day is about more than just putting on a t-shirt or a specific date on the calendar. It's about honouring all children who endured the horrors of the residential school system, and the continuing impacts that are still felt today.
When you wear orange this year, we're calling on you to take a commitment to learn, raise awareness and to engage in conversations that make a difference. Share what you're learning and doing to commit to reconciliation with #WhyIWearOrange.
As Senator Murray Sinclair said, "We call upon you to do the climbing."

Ways to Support
Attend the Rally Around Reconciliation
The Rally around Reconciliation is your opportunity to stand shoulder to shoulder with people of diverse backgrounds, united in support for the Indigenous community and Calls for Change. It's a resounding message to decision makers that action speaks louder than words, and demonstrates our collective power to drive meaningful change.
📅 Date: September 30th
⏰ Time: 2:45 pm – 3:45 pm
📍 Location: Colonial Building & Bannerman Park
Become a Partner
Your organization can join us in commemorating Orange Shirt Day on September 30th by becoming a 2023 Orange Shirt Day Partner. Your support will contribute to the creation of First Light's Residential School Memorial Garden.
To become a 2023 Orange Shirt Day Partner, we kindly request a minimum donation of $200. However, you are welcome to contribute any amount that aligns with your commitment to Orange Shirt Day.
Donate
All profits from our orange shirt sales go towards the development and creation of our Residential School Memorial Garden, led by Elders & residential school survivors.
The garden will be a space for people to learn about the history of the residential school system, to recognize the strength and resilience of our survivors, and to celebrate the Indigenous cultures in our province.
You may also make a direct donation to the memorial garden here:
Promote Systemic Change
Orange Shirt Day is an opportunity to promote positive systemic change in St. John's and across Newfoundland and Labrador. We encourage everyone to learn about the First Voice #42Calls for Change and to join our work to advance truth and reconciliation right here at home.
FAQs
What is Orange Shirt Day?
When is Orange Shirt Day?
Will there be an event for Orange Shirt Day this year?
What is the significance of the orange shirt?
Is Orange Shirt Day only for Indigenous peoples?
How can I participate in Orange Shirt Day?
Where can I learn more about residential schools/Indigenous history?
How can I contribute to reconciliation beyond Orange Shirt Day?