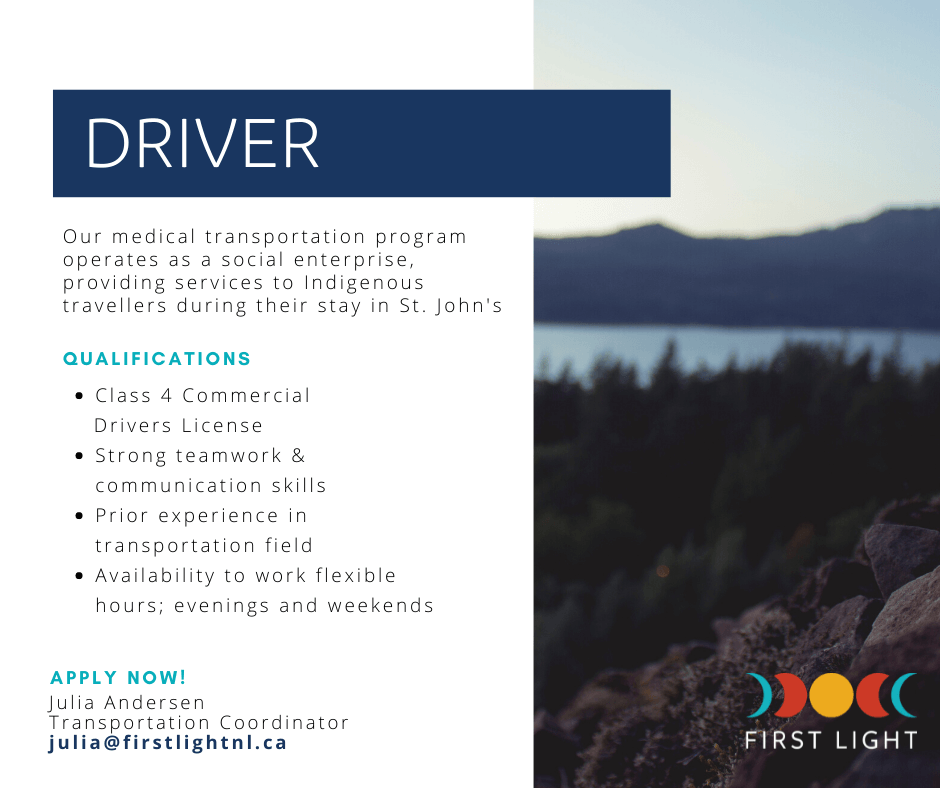 Position: Medical Transportation Driver
Reporting to: Transportation Coordinator
Location: Lunar Inn – 36 Quidi Vidi Road
Summary
First Light is a community based, not for profit organization whose mission is to serve the urban Indigenous population, while providing a range of services that are open to all, regardless of heritage.
The Medical Transportation Program operates a social enterprise, providing transportation services to Indigenous medical clients who have travelled to St. John's for medical appointments. The program works closely with the organization's Patient Navigator program to provide the highest quality navigation services.

Core Skillset
Excellent customer service
Communication and interpersonal skills.
Problem solving
Detail oriented
Scheduling and time management
Safety
Essential Responsibilities
Demonstrate the highest level of customer service when interacting with passengers, being respectful of their needs, listening for request related to future rides and communicating those to dispatch.
Inspect the vehicle daily to ensure it is in optimal condition while reporting any damage or maintenance required in a timely manner.
Operate First Light vehicle(s) in a safe manner at all timesobeying all traffic regulations including cell phone use when using the vehicle.
Operate First Light vehicle(s) in a cost effective manner, include choosing the route that is most efficient when transporting passengers.
Ensure passenger safety when entering and exiting the van, including assisting passengers with loading and unloading luggage, wheelchairs, etc.
Communicate effectively with passengers, providing information on routes, schedules, and stops.
Report delays, mechanical problems, and accidents to the dispatcher.
Ensure the van interior and exterior is kept in a clean manner.
Approval Responsibilities (outlines approval process)
Ride requests that are outside of the ordinary scope of the medical transportation program must be approved by the dispatcher.
You are entitled to a 30 minute paid lunch break, which will be assigned daily by the dispatcher. If you require a specific time to break or will need an extended lunch (unpaid) this must be approved by the Transportation Coordinator.
All overtime and annual leave must be approved by the Transportation Coordinator.
Any spending must be approved by the Transportation Coordinator.
Qualifications:
High school diploma or equivalent
Class 4 Drivers license will be required (can be completed during orientation)
Ability to work shifts, weekends and holidays as required.
Must provide a criminal record and vulnerable sector check.
Strong communicational and organizational skills.
Prior experience in the transportation field would be an asset
Apply Today: [email protected]