First Voice Names Jennie Williams Recipient of 2022 Indigenous Advocate Award
FOR IMMEDIATE RELEASE
This media release is also available in PDF.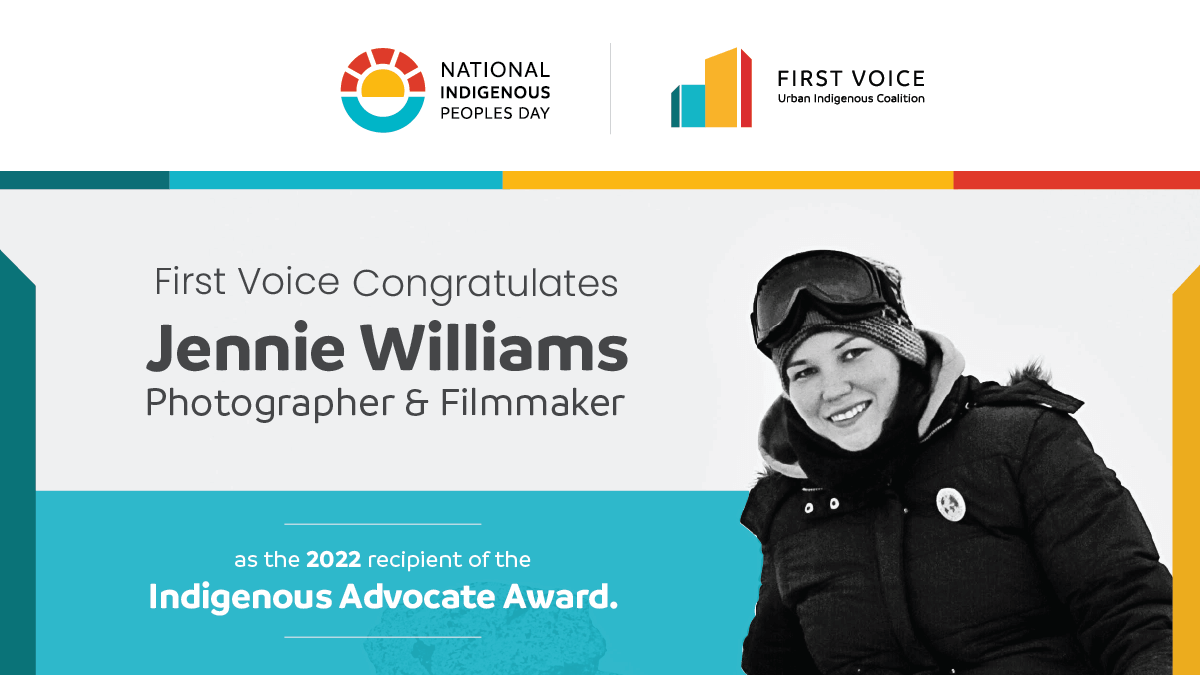 St. John's, NL — First Voice today named Inuk photographer and filmmaker Jennie Williams as the recipient of the 2022 Indigenous Advocate Award. In rendering its decision, the Selection Committee cited Jennie's outstanding artwork documenting and sharing the unique cultural traditions of Inuit communities in Labrador. The Selection Committee also issued honourable mentions for Bethany Jacobs, a student volunteer and MMIWG activist in St. John's, as well as Dean Simon, a Mi'kmaw Language Facilitator with Qalipu First Nation based in St. George's.
Born in Happy Valley–Goose Bay in 1981, Jennie Williams moved to St. John's at the age of 21, and then to Nain, Nunatsiavut, six years later. While living in Nain, she spent 12 years researching and documenting the unique cultural traditions associated with Nalujuk Night, which takes place across Inuit communities in Nunatsiavut every January 6. Best known for her series of photographs that share their name with the tradition they document, Jennie just last year launched her short documentary film, Nalujuk Night, to widespread acclaim. More details about Jennie's life and career can be found by visiting First Voice at https://firstvoicenl.ca/article/jennie-williams-2022/.
The Indigenous Advocate Award was created in 2020 to recognize outstanding efforts to advance the human rights of Indigenous Peoples in Newfoundland and Labrador. Nominations are accepted through a competitive public process, with recipients chosen by a Selection Committee whose members are appointed by the First Voice Partnership Table. Previous recipients include Charlotte Winters-Fost (2020), one of the founders of First Light Friendship Centre in St. John's, and Diem Saunders (2021), an MMIWG activist from Labrador. A formal award ceremony celebrating Jennie Williams as this year's recipient will take place in August.
###
Media Contact
Justin Campbell
Program Manager
First Voice Urban Indigenous Coalition
[email protected]
709-690-0636