First Voice Announces Public Nominations Now Open for the 2021 Indigenous Advocate Award
FOR IMMEDIATE RELEASE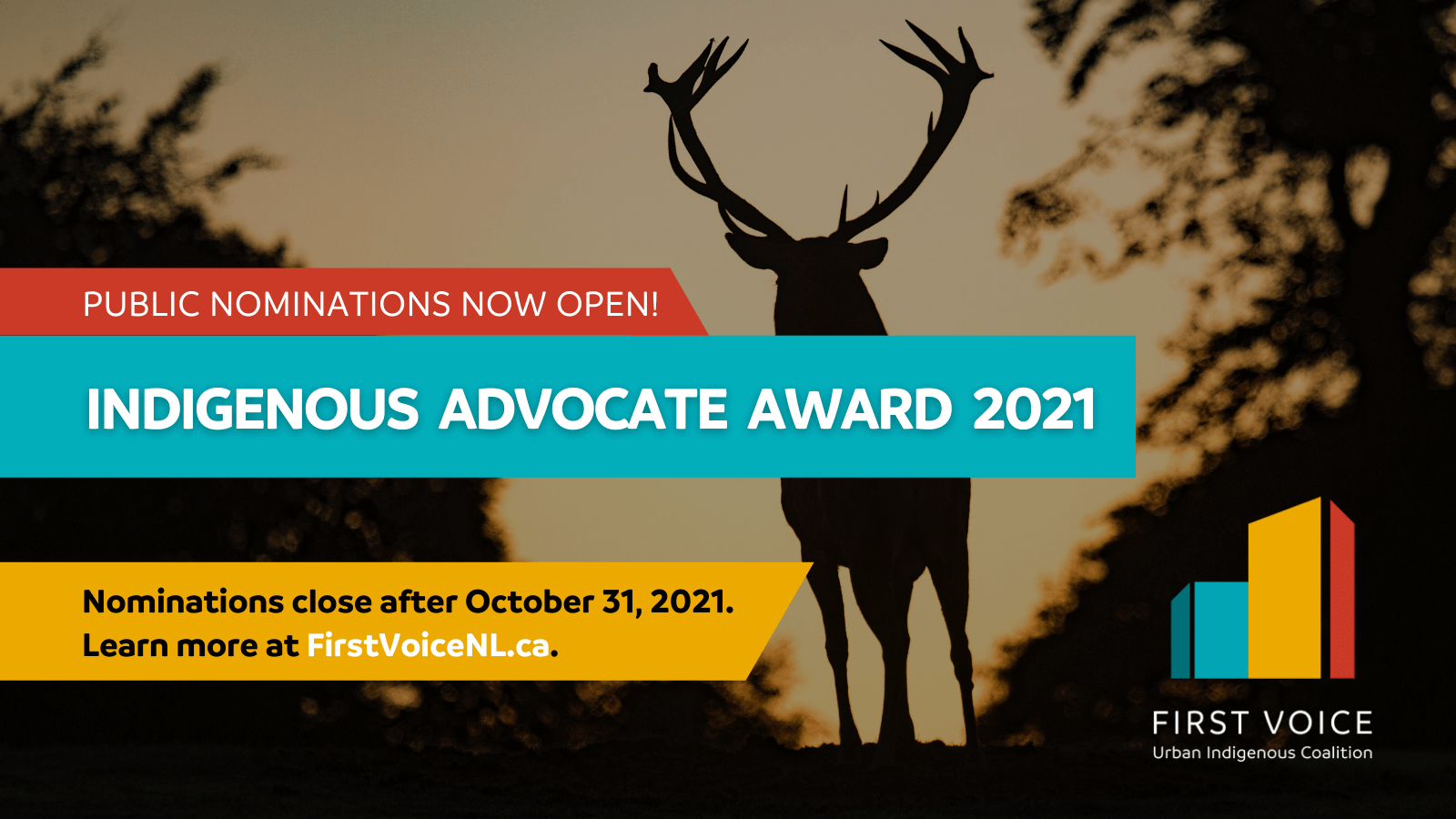 St. John's, NL — First Voice today announced a public call for nominations for the 2021 Indigenous Advocate Award. Created just last year, the annual award recognizes outstanding efforts to advance the human rights of Indigenous Peoples in Newfoundland and Labrador. Candidates for the award must self-identify as a status or non-status member of an Indigenous community. Last year's inaugural award was presented to Charlotte Winters-Fost, an Inuit Elder from Hopedale, Nunatsiavut, for her decades of work promoting cross-cultural understanding and her efforts to build a strong urban Indigenous community in St. John's.
More details about the Indigenous Advocate Award, including the award criteria and the selections process, can be found online at firstvoicenl.ca. Nominations may be submitted directly to First Voice using the online form available at firstvoicenl.ca or by submitting the required information by phone or email. The public nominations period closes on Sunday, October 31, 2021, after which a Selections Committee will convene to review nominations and choose the recipient. The award recipient will be announced in mid-November 2021.
###
Media Contact
Justin Campbell
Program Manager
First Voice Urban Indigenous Coalition
[email protected]
709-690-0636
www.firstvoicenl.ca
About First Voice
Launched in 2019 by First Light in collaboration with Indigenous Services Canada, First Voice is a coalition of 11 organizations representing Indigenous Peoples, service providers, and all levels of government working together to advance truth and reconciliation in St. John's, Newfoundland and Labrador. Our work focuses on promoting and supporting local implementation of the Calls to Action of the Truth and Reconciliation Commission (TRC), the Calls for Justice of the National Inquiry into Missing and Murdered Indigenous Women and Girls (MMIWG), and the United Nations Declaration on the Rights of Indigenous Peoples (UNDRIP).